Y&R's Canadian Capers
September 8, 1992
Soap Opera Magazine
About 11,000 hard-core Y&R fans braved gloomy rain and fog to ogle some of their favorite soap stars at an appearance in Canada's Wonderland Theme Park in Toronto.
Fortunately, the sun came out by showtime during the park's second annual Joyce Becker Soap Opera Festival, and the fans had a terrific time. The Festival drew such a huge throng because Y&R is the most popular soap show in Toronto. And SOAP OPERA MAGAZINE was there to bring you these exclusive photos.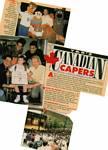 ---
CAPTIONS
CARTOON LAND: Some of Wonderland's live cartoon characters gathered to have their picture taken with Michael Tylo (BLADE). You no doubt already recognized George Jetson, Fred Flinstone, Captain Caveman and Scooby Doo.
GUEST OF HONOR: Sherry Sportford, a 10-year-old Toronto girl with cerebral palsy, was overjoyed when she got a chance to visit four Y&R hunks backstage and to give them a cake made by her mom. From left are Christian LeBlanc (MICHAEL), Don Diamond, Kristoff St. John and Michael Tylo.
IT'S SHOWTIME: Thousands of enthusiastic fans turned out for each of the two afternoon shows to cheer their favorite Y&R stars.
---
Q&A WITH MICHAEL (thanks to Elizabeth!)
Joyce Becker's Soap Opera Festival at Canada's Wonderland July 26 1992. MC's Joyce Becker and Elaine Loring from Global Television.
Joyce introduced Michael first. She said he has the most beautiful blue eyes. When he came out on stage he hugged her and lifted her off her feet, he is at least a foot taller than her.
Michael was wearing a light yellow shirt, beige slacks, white socks and brown loafers.
Here are the questions he was asked along with his answers:
Q) Who are your idols?
A) Lawrence Olivier, Eroll Flynn, Gordie Howe and Mickey Mantle.
Q) Are you married?
A) I'm very married, to Hunter Tylo from B&B.
Q) What sports do you like?
A) Hockey and golf.
Q) What is your birthday?
A) October 16, 1948.
Q) If you could have one wish, what would it be?
A) My parents just celebrated their 45th wedding aniversary, I would wish to celebrate a 45th anniversary with Hunter.
Q) Do you enjoy working on Y&R?
A) Yes. The people are great to work with, the character and storyline are great, and my wife works across the hall. This way we eat lunch together and carpool.
Q) What other daytime dramas have you worked on? And your characters?
A) Guiding Light as Quint McCord, and All My Children as Matt Connelly. (He left out General Hospital because it was an experience he would rather forget.)
Q) Have you ever had a practical joke played on you at the studio?
A) No. The closest thing to a practical joke was sitting next to Christian LeBlanc (Michael Baldwin) on the trip over here. The women wouldn't leave him alone.
Q) Have you been to Canada before? And do you like it here?
A) I love being in Canada. I have been here with other shows on tour and when I was growing up in Detroit I used to hop over to Windsor then take a train to Toronto to have some fun.
Q) Are you going to be doing any tv movies in the future?
A) Hunter and I have been given a script to look at, it is a murder/mystery. We will probably be doing it.
Q) Blade hangs out with Jill a lot, does that mean he's a jerk?
A) Just because he hangs out with Jill doesn't mean that. She is devious, but also beautiful and smart. I don't know wether Blade is good or bad, it is made up on the way. Note: When Don Diamont (Brad) mentioned the time Jill tried to get Brad but he wouldn't have anything to do with her, Michael joked that Brad is afraid of Jill so they needed a "real man" for her.
Q) What was your first acting job?
A) In a movie (did not catch the title) in 1968.