A Man For All Seasons - feature
---
Announcement
July 14, 1996
By Geoff Gehman
The Morning Call
A MAN FOR ALL SEASONS PREMIERES FEBRUARY 11 IN THE JUDY BAYLEY THEATRE
Nevada Conservatory Theatre at UNLV continues its award winning season in February with the opeing of Robert Bolt's A MAN FOR ALL SEASONS. The Tony and Academy award winning play will feature G.W. Bailey as The Common Man, and James Sutorius as Sir Thomas More. Other professional local actors appearing in the production are Michael Tylo who teaches acting for the camera at UNLV as The Duke of Norway [sic]. Phil Hubbard who was recently seen in Annie, Steve Rapella who was the lead in last season's A View From the Bridge, and Dean Jeff Koep. You will find each of their bios by following the links on the right side of this page.
About the author:
Playwright Robert Bolt is probably better known as a screenwriter than a playwright. He was nominated for an Oscar in 1962 for his first screenplay, Lawrence of Arabia and actually won his first Academy Award a few years later for Doctor Zhivago in 1965 and his second for his film adaptation in 1966 of his play A Man for All Seasons. He earned a reputation as a writer who specialized in adapting literature to the screen.
Bolt began is life in 1924 in Manchester England as the son of a small shopkeeper. He served in the British Air Force in WWII before attending Manchester University where he earned his degree in History. He went on to become a schoolteacher at Millfield, a private school were he taught English between 1950-58. It was during this time that he began writing a dozen radio plays which were broadcast. When his play, Flowering Cherry became a London success, he left teaching to write full time. By 1960 he had two shows, The Tiger and the Horse and A Man for All Seasons, running concurrently in London's West End. It was about this time he began writing for the screen with continued success until his own script for Ryan's Daughter in 1970 bombed at the box office. He then turned his attention to his playwriting career with Viv a! Vivat Regina! the same year. After a massive heart attack while working on the screenplay for The Bounty , he had a stroke which partially paralyzed him. He continued to write and passed away in 1995.
---
A Man For All Seasons
Academy and Tony Award Winner
A Man For All Seasons By Robert Bolt
A Man for All Seasons dramatizes the conflict between Henry VIII and Sir Thomas More and is a confrontation between church and state, theology and politics, absolute power and individual freedom. The play opened in 1960 at the Globe Theatre in London and went on to win New York's Best Foreign Play in 1962. When Henry VII became heir to the British throne upon his brother's death, the Pope made special dispensation for him to marry his brother's widow, the politically desirable Spanish princess, Catherine. When Catherine failed to produce a male heir, Henry sought out the Pope to nullify the marriage since it violated Christian law for a man to marry his brother's widow. This caused More to resign his post in 1532 as Lord Chancellor because he opposed the plan. Henry then took England out of the Catholic Church and established the Church of England with himself as head. In 1533 Henry crowned his new wife, Anne Boleyn, queen. Two years later , the Act of Succession required all to take an oath acknowledging the issue of Henry and Anne as legitimate heirs to the throne with a clause repudiating "any foreign authority, prince or potentate." More refused to take the oath and was sent to the Tower. He was indicted for treason.
At More's trial, the solicitor-general, Richard Rich, testified that More had denied Parliament's power to invest Henry with ecclesiastical powers. Despite More's denial of the statement and his avowal that Rich was a perjurer, More was convicted and beheaded on July 6, 1535. More was willing to be executed rather than renounce his oath to the Pope and the Catholic Church, thus becoming a martyr who was later sainted.
The play presents the dilemma of a man of conscience who followed those dictates which have become a vital example to all mankind. Today, More is regarded as a hero of civil disobedience, a man who refused to obey the law with which he was in profound moral disagreement. For More, law was morality and morality was superior to law and the standard by which law must be judged.
---
Michael's bio
Michael Tylo to portray The Duke of Norfolk
The Nevada Conservatory Theatre at UNLV is proud to announce the role of The Duke of Norfolk will be portrayed by Las Vegas resident Michael Tylo in his first appearance at NCT when A Man For All Seasons takes stage in February.
Michael Tylo has performed extensively on stage, film and television, and is probably most widely recognized for his work on the daytime drama, The Young and the Restless as the high-fashion photographer, Blade and his evil twin brother, Rick.
His stage credits include seasons at The Long Wharf, Alley Theatre, Meadowbrook Theatre, as well as performing at The Roundabout Theatre and the Louise Lortel Theatre in New York City. He has worked with many well-known directors such as Canadian Edward Gilbert, Douglas Seale, Terry Kilburn, John Reich, Cyril Ritchard and Richard Chamberlain. He worked with Sir Tyrone Guthrie in Ireland on mounting the play Oedipus for a tour in Australia.
From that experience Tylo eventually went on to produce shows Off-Broadway including Vikings by Steve Metcalf at The Manhattan Theatre Club. Tylo is a founding and active board member of The Pennsylvania Shakespeare Festival, and has appeared there as Iago in their critically acclaimed production of Othello. Television credits include featured roles on Murder She Wrote, Even Stevens, and Perry Mason . Tylo also did a season recurring in a role on Gabriel's Fire, with James Earl Jones and two seasons as the evil Alcalde on The New Adventures of Zorro. His most recent film work includes Intrepid, Race to Space, Long Shot and the science fiction adventure, They Are Among Us.
While in college, Tylo took up fencing and went on to study stage combat with B. H. Barry, Paddy Crean and Peter Diamond. He holds a B.F.A. and M.F. A. degrees from Wayne State University where he also was a member of The Hilberry Theater Company for three years. A former student of Uta Hagen, Tylo currently studies with Ivana Chubbuck in Los Angeles. He is married to actress Hunter Tylo and they reside in Las Vegas with their four children.
---
Performances
11.02.2005, 20.00, Judy Bayley Theatre, Nevada Conservatory Theatre at UNLV
12.02.2005, 20.00, Judy Bayley Theatre, Nevada Conservatory Theatre at UNLV
13.02.2005, 14.00, Judy Bayley Theatre, Nevada Conservatory Theatre at UNLV
17.02.2005, 20.00, Judy Bayley Theatre, Nevada Conservatory Theatre at UNLV
18.02.2005, 20.00, Judy Bayley Theatre, Nevada Conservatory Theatre at UNLV
19.02.2005, 20.00, Judy Bayley Theatre, Nevada Conservatory Theatre at UNLV
20.02.2005, 14.00, Judy Bayley Theatre, Nevada Conservatory Theatre at UNLV

---
Nevada Conservatory Theatre sees 'Man for All Seasons' play as relevant to our times
February 10, 2005
By Kristen Peterson
Las Vegas Sun
In October 2001, Russ Feingold was the only senator who voted against the anti-terrorism bill, H.R. 3162, otherwise known as the Patriot Act. In a speech from the Senate floor about civil liberties in a post-9/11 world, Feingold referred to a quote from Robert Bolt's "A Man for All Seasons," in which Sir Thomas More is beheaded by Henry VIII for treason.
The quote occurs in a scene between More and his daughter's suiter, Will Roper, in which Roper says he would cut down every law to get to the devil. More responds: "And when the last law was down and the devil turned 'round on you, where would you hide Roper, the laws all being flat?
"The country is planted thick with laws from coast to coast, Man's laws, not God's! And if you cut them down (and you're just the man to do it), do you really think you could stand upright in the winds that would blow then?"
Over the past few years, that quote has turned up in editorials and at religious rallies, and has been stated by leaders and human-rights groups who use More's statement in arguing social and political issues, namely the Patriot Act, opposition to gay marriage, civil liberties and an "illegal war" in Iraq.
When the Nevada Conservatory Theatre presents "A Man for All Seasons" this weekend at Judy Bayley Theatre, audiences will have a chance to hear the famous words within the full context of the story.
Bob Brewer, artistic director of the Nevada Conservatory Theatre (and director of this production), selected the play for its relevance in today's society.
"It's very timely," Brewer said. "It's kind of sad, but true. When I selected it last year I talked about why we needed it."
For those not familiar with the story, More, a noted 16-century philosopher, lawyer, friend of Erasmus and author of "Utopia," a novel about an ideal society founded on reason, became a member of parliament, then aligned with Henry VIII. More eventually became Lord Chancellor.
A deeply religious man, More did not support King Henry's desire to divorce Katherine of Aragon, a marriage the pope had sanctioned despite Katherine being the widow of Henry's brother.
When Henry broke from Rome and the Catholic Church (establishing the Church of England), More refused to swear to the Act of Succession and Oath of Supremacy. For this, he was beheaded.
Current events
Politically and socially, More's nobility and heroism have been embraced by conservatives and liberals who use More as an example in advancing their causes.
In an editorial for the Los Angeles Times, Jonathan Turley, professor of constitutional law at George Washington University, refers to John Ashcroft as a "constitutional menace" and a threat to civil liberties by creating camps for U.S. citizens deemed "enemy combatants" and stripped of constitutional rights.
Turley writes, "Every generation has had Ropers and Ashcrofts ... every generation has its test of principle in which people of good faith can no longer remain silent in the face of authoritarian ambition ..."
Last year, in opposition to gay marriage, Archbishop Sean P. O'Malley of Boston suggested that lawyers have the courage of More, who "lost his life defending the sacredness of marriage."
During the impeachment hearing for President Clinton, "A Man for All Seasons" was referred to more than once in regard to upholding the law and the importance of taking an oath.
Additionally, Roger Normand, executive of the Center for Economic and Social Rights, along with author Jan Goodwin, spoke against the illegality of pre-emptive war, racial profiling and an attack on civil liberties in a 2003 editorial available on CESR's Web site.
It reads, "With U.S. troops engaged in battle, Americans will pray for their safety and for a time also rally 'round the government. But before it is too late, we would do well to heed Sir Thomas More's advice to Will Roper ... in the play, 'A Man for All Seasons.' "
More, the hero
Brewer said he feels passionately about the play's historical context and the need for heroes today.
"This is about a special and unique man who believed in what he believed, and had virtue and morals," Brewer said. "We've become a sort of amoral society."
In the wake of 9/11 and the Patriot Act, Brewer said of More: "He talks about the law itself. How important laws are and how important it is to protect these laws."
Also, Brewer said, "It's time for the youth today to find heroes. We have a lot of statesmen, but not a lot of Mores ... More was a very peace-loving man. The kind of war we're fighting in Iraq is not something he would have believed in."
As a teenager, Brewer saw the production on Broadway starring Paul Scofield as More. The play was turned into a movie in 1966, also starring Scofield.
It won six Academy Awards, including best picture, best actor, best cinematography, best director and best writing for a screenplay based on material from another medium.
"It's always been a play I always wanted to do," Brewer said. "I remember moments vividly, especially the killing.
"The murder of Thomas More is a blemish to English history."
The production, with a 12-member cast, period costumes and several theatrical devices, is large and more costly than other NCT productions. Brewer said that several churches in the community have called about group rates.
Craig King, coordinator of Faith Formation at St. Francis of Assisi in Henderson, the same church that sold tickets for Mel Gibson's "The Passion of the Christ" at the parish (and received a special screening for the congregation), said the church purchased a block of 100 tickets for the production.
King sees More's life as a very powerful story and, he said, "very pertinent for our times."
Dorothy Distel, member of St. Thomas More Church in Henderson, said that More represents justice and truth and "even when it's hard, you speak for truth."
Regarding the play, Distel said, "I think that's why it's so important for us today. Those times were no easier than our times."
Playing the role
Using equity actors, Brewer said he had to go searching around the country for the right performers.
G.W. Bailey, best known for portraying wheeler-dealer Rizzo on "M*A*S*H," plays the Common Man, an intuitive, humorous character we see throughout the production.
Brewer chose James Sutorius, a Shakespearean actor who has performed as Valmont in "Les Liaisons Dangereuses," Leonato in "Much Ado About Nothing" and John Proctor in Arthur Miller's "The Crucible." He has also appeared in such television shows as "CSI," "Ally McBeal" and "The X-Files."
"You wait around a long time for these," Sutorius said, referring to his role as More. "I've wanted to play this since I was a kid. They don't do it often in the country. They should because it speaks to today, the morals, values and ethics."
Sutorius recently participated in the opening of the Kirk Douglas Theater in Los Angeles (where Sutorius resides) and its new play, "A Perfect Wedding."
For the role of More, Sutorius, who describes himself as an instinctive actor, did go to St. Thomas More Catholic Church and visited with More's statue.
The martyred More was made a saint in 1935 and in 2000 the Pope made him Patron Saint of Politicians.
Regarding More, Sutorius said, "He's a man of great mirth, a lot of fun, loves animals, music, he was a renaissance man. He's a very simple man, too. I may play him more as a regular man, show him as a lot of fun.
"Everybody thinks they have convictions and principles. Some might see him as a fool. It's up to (audiences) to decide if he's a hero."
source: http://www.lasvegassun.com/sunbin/stories/do/2005/feb/10/518269855.html
---
Man's' Man
James Sutorius of 'Police Academy' and 'M*A*S*H' fame stars in 'A Man For All Seasons'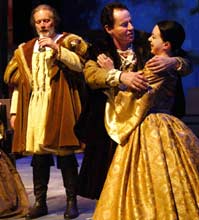 From left, Michael Tylo plays the Duke of Norfolk, James Sutorius is Sir Thomas More and Melanie Ash is Lady Margaret More in the UNLV theater department's production of "A Man For All Seasons."
Photo by Ralph Fountain.

A Man For All Seasons" is one of the best constructed, best written plays in the English language.
So why is it seldom produced in the United States? Even University of Nevada, Las Vegas theater director Robert Brewer doesn't know for sure, and he's taking on the Nevada Conservatory Theatre production of the Robert Bolt play, opening tonight in the Judy Bayley Theatre.
Maybe it's the language, which is almost Shakespearean in its richness. Or perhaps it's the expensive sets and costumes.
"It's won every major award," Brewer said. "I don't know why it's not been revived. I saw it years ago on Broadway, and it's one of my favorites. But you have to do it with a great cast, you have to have home-run hitters."
So Brewer went for a veteran cast of Equity actors including James Sutorius as Thomas More, G. W. Bailey as the Common Man and Michael Tylo as the Duke of Norfolk.
Sutorius has performed in countless television shows, including "CSI," "ER," "The X-Files" and "Chicago Hope," but he also has an extensive resume in the theater, having played Valmont in "Les Liaisons Dangereuses" at the Pasadena Playhouse and Leonato in "Much Ado About Nothing" at the Shakespeare Festival in Los Angeles. He also counts Macbeth and Hamlet among his roles.
But he says the role of Thomas More has been a dream part.
He was grabbed by "the language," he said. "It's so beautiful, it comes out of your mouth so right and so real. Plus, what the story's about."
When Henry VIII became heir to the British throne, the pope made special dispensation for him to marry his brother's widow, Catherine, the Spanish princess. But Catherine failed to produce a male heir, so Henry wanted the marriage nullified. He claimed it violated Christian law for a man to marry his brother's widow. More, who was Lord Chancellor, resigned his post in 1532 because he opposed the plan.
Henry then established the Church of England, separate from the Roman Catholic Church, and made himself head of the church. In 1533, Henry crowned his new wife, Anne Boleyn, queen.
Two years later, the Act of Succession required everyone to take an oath acknowledging the issue of Henry and Anne as legitimate heirs to the throne with a clause repudiating "any foreign authority, prince or potentate."
More refused to take the oath and was sent to the Tower and indicted for treason.
While rehearsing the play, Sutorius said he went to the nearby St. Thomas More Catholic Community and "spent time alone in the church talking to Thomas More. There's something wonderful about doing More in Vegas. It's a wonderful juxtaposition. I never would have thought of doing More here."
Brewer and Sutorius worked together about 30 years ago at the Arizona Theatre Company, with Brewer directing the actor in "The Devil's Disciple."
After a mutual friend ran into Sutorius in Los Angeles one day, Brewer contacted him and told him he was casting "A Man For All Seasons."
"When I got down the list to More, he said, `Stop right there. I'll do it,' " Brewer recalled.
For the rest of the cast, Brewer turned to some other veterans. Bailey, known as Lt. Harris in the "Police Academy" movies and Private Rizzo, the pool-hall con man on the TV show "M*A*S*H," wouldn't seem to be a natural choice for such a high-toned play. But Bailey is a classically trained actor who played More earlier in his career.
Bailey told Brewer that, at this time, he was more the Common Man than Thomas More.
Rounding out the 12-member cast are Tylo, a former soap opera actor on "General Hospital" and "The Young and the Restless" and currently a UNLV theater professor, as the Duke of Norfolk; Phil Hubbard as Henry VIII; Steve Rapella as Thomas Cromwell; UNLV College of Fine Arts dean Jeffrey Koep as Cardinal Wolsey; and Alex Holmes, Joan Mullaney, Stephen Crandall, Melanie Ash, Meredith Stringfelow and Taylor Hanes.
The mazelike set was designed by Jeff Fiala, Kelly James-Pinot designed the costumes and Ben Elliott designed the lights and projections.
Brewer said the play is contemporary because the country is "lacking heroes today. More stood up for what he believed in. His mission wasn't to stand up to anyone, they were standing up to him. The play is incredibly optimistic to realize that there are people like Thomas More in the world."
For Sutorius, the play doesn't run long enough. "It's a treat to be able to lose myself in this guy," he said. "The play really speaks to today. It stays with you forever, doing plays like this and such great roles."
---
Director takes sides with 'Seasons'
Despite all the awards that have been showered on it, "A Man For All Seasons" is more of a curiosity than a good play, full of a one-sided argument that makes you want to yell back. The Nevada Conservatory Theatre production is earnest, a tad dull, but full of flourishes that can be easily enjoyed.
Robert Bolt's 1961 script gives us the moral battle between Sir Thomas More, chancellor of England, and King Henry VIII, having to do with whether or not the pope has divine power in vetoing Henry's marriage to Anne Boleyn. Bolt presents More's purity as a given, and the people who oppose him as buffoons. To Bolt's credit, More's position is not likely to be one most people agree with, so the play is a celebration of courage, not ideology.
Director Robert Brewer gets a lot of mileage out of this almost-drama. The show moves well, and the actors -- five of the 12 being union -- know how to handle Bolt's flowery language. James Sutorius has the backbone of a believable More. He comes across as a man dedicated to doing the right thing, while avoiding the sin of self-congratulations. Phil Hubbard is an appropriately bawdy King Henry VIII, Michael Tylo makes for a robust Duke of Norfolk, and Melanie Ash projects intelligence and grace as Thomas' daughter, Margaret.
G.W. Bailey is an especially pleasing "common man." The former Private Rizzo on the TV show "M*A*S*H" comments on the plot, plays a score of roles, and even changes a good hunk of scenery. Bailey has a chumminess that makes for solid audience rapport.
You sometimes get the feeling Brewer, even with Bolt's one-sided script, has made the mistake of judging these characters. As Thomas Cromwell -- the man devoted to devouring More -- Steve Rapella looks and acts like a cartoon version of an evil Shylock. Brewer turns Jeffrey Koep's Cardinal Wolsey into such a dunce that you wonder how this idiot could get work as a janitor, let alone a cardinal. And while Sutorius is likable, his "goodness" and vocal work don't have the variety to keep us interested for 2 hours and 45 minutes (with intermission).
The stage looks delicious. Jeff Fiala's set -- a maze of dirty white "bricks," platforms and stairs that climax into an image-projecting scrim -- creates a feeling of royal intrigue. Kelly James-Penot's costumes give a hint of the fancifulness of the period, without overwhelming the drama. And Ben Elliott's lights and screen projections are stately, subdued, provocative.
I just wish that Brewer weren't quite as sure as Bolt who the bad guys in this story are.
Overall grade: B-
---
Thomas More loses his head, but not his soul, in A Man for All Seasons
February 15 - 23, 2005
by Steve Bornefield
Las Vegas Weekly
Beheading: A Comedy.
Odd creature, A Man for All Seasons: Funny. Dramatic. Tragic. Ennobling. ... Funny.
Truly, a play for all seasons, and it receives a production nearly worthy of it by UNLV's Nevada Conservatory Theatre that's more studded with Equity actors than usual, led by G. W. Bailey—Sgt. Rizzo of M*A*S*H* fame.
So much soars in this Seasons, yet at its core—the Man of the title, played by James Sutorius—lies a perfunctory performance where the fire of passion should blaze, muting a play of enormous power.
Robert Bolt's work dramatizes a church-state standoff in 16th-century England:
Lord Chancellor Sir Thomas More, a devout Christian, refuses to sanction King Henry VIII's request to the pope to nullify his marriage to Catherine—who's borne him no male heirs—to wed Anne Boleyn. After withdrawing from the Catholic Church in Rome, Henry establishes himself atop the new Church of England and demands an oath of allegiance from his subjects. When More, loyal to Rome, refuses, he is convicted of treason and executed.
One man's uncompromising integrity to the bitter end—in contemporary terms, a guy who talks the talk and walks the walk. The kind of politician we claim to crave today, who couldn't get elected to a co-op board.
Seasons is streaked with laughs, mostly generated by the impish Bailey as The Common Man. As narrator and multiple bit player, Bailey guides us through the play, reminding us of More's singular courage and sprinkling sparkling bits of shtick—wry asides, bemused double takes, sly commentary—with nimble puckishness. We come to relish his every entrance, his commonness our conduit to these royal combatants.
Sumptuous production values abound, especially Jeffrey Fiala's gorgeous set design—a sloping, cathedral-style construction with maze-like multilevels that director Robert Brewer fully exploits, blocking his actors to use virtually all of the stage. This show never stands still for long.
Kelly James-Penot's ornate costuming, flowing robes, cloaks and gowns flourishing with period detail, are a visual treat; and Ben Elliott's intriguing lighting—stage awash in moody reds, blues, yellows and soft white spotlights—nicely complements illustrative background projections.
A strong supporting cast includes Michael Tylo (Blade, The Young and the Restless) as the Duke of Norfolk, whose friendly counsel is ignored by More; Phil Hubbard as boisterous Henry VIII; and especially Steve Rapella, dripping deviousness as Thomas Cromwell, who manipulates More to the chopping block with nary a nod to his conscience.
Yet in the central part, Sutorius is not up to the power of the role, like a man wearing a suit two sizes too large, the play awkwardly hanging off shoulders not broad enough to carry it. His More is affably wise, avuncular, even humorous. But for a man willing to sacrifice his life for his ideals, an undercurrent of iron-willed fortitude is sorely lacking as the first act's events—his ascent as chancellor, his daughter's romance with a "heretic" Lutheran and the cajoling by the duke, Henry and Cardinal Wolsey (Fine Arts Dean Jeffrey Koep) to soften his stance—ramp up to More's second-act imprisonment, trial and execution.
The play's dramatic momentum sees it through its tragic, noble climax, More telling his executioner: "Fear not your office, for you send me to God."
But the steel of this Man is not securely bolted, and at a 2:45 performing time (with intermission), its foundation wobbles. With Bailey's sprightly guide so deftly played on one side, while Sutorius' More less than he could be on the other, this Man for All Seasons is a play out of balance.
---
Saint and Scholar
Friday, February 18, 2005
by Kelle Schillaci
Las Vegas CityLife
Nevada Conservatory Theatre's portrayal of Sir Thomas More offers warmth and wit
Charles O'Connor, executive director of the Nevada Conservatory Theatre, opened his company's latest production by making some pretty hefty pre-show promises regarding the caliber of the Las Vegas theater scene, saying that soon enough we'll rank right up there with New York or San Francisco.
Steve Rapella (left) plays Thomas Cromwell and James Sutorius stars as Sir Thomas More in A Man for All Seasons.
Hmm. I think I'll keep my fingers crossed.
Still, while not exactly avant-garde, the production of A Man for All Seasons displayed definite signs of greatness, from the well-designed set and elaborate costuming, to the cast of visiting Equity actors and Las Vegas stage regulars who told the life story of Sir Thomas More with lots of heart and surprising humor.
The play, written by Robert Bolt (most famous for his Lawrence of Arabia and Dr. Zhivago film adaptations, the latter scoring him his first Oscar), follows More, Britain's lord chancellor in the time of King Henry VIII. Quick history lesson: Henry is the dude who married his brother's widow, Catherine (oops, barren!), and then, after an annulment request to the Pope failed, led Britain in ditching the Catholic Church and creating the Church of England. Officers were required to sign an oath to acknowledge the king's new (fertile!) queen, Anne Boleyn. And not everyone lived happily ever after.
In opposing the plan and refusing the oath, More lands not only in England's famed Tower -- but also in history books as the iconographic symbol of integrity, as shown in one man's refusal to sacrifice his ideals in response to tyrannical social pressure (something to consider while living in an era when conscientious objectors are so quickly labeled "unpatriotic").
It's definitely a history lesson, heavy on treason and betrayal, but Bolt's clever script, combined with the direction of Robert Brewer (who directed Proof in the fall), results in a smart and often witty character drama, introducing us to More as a man, rather than as some inflated metaphor. He's still the heroic martyr, but actor James Sutorius makes him so darn likable in, like, a human way.
Given its 16th-century roots, the tale has a Shakespearean air (sans bad British accents), and begins with a fool. Played by G.W. Bailey, the servant's wit and insight is often much smarter than that of his masters. He cracks jokes, introduces the characters and observes their follies with audience-aimed commentary while changing the set between scenes. Bailey (who you might recognize as Private Rizzo on TV's "M*A*S*H*" and as the drill instructor in the Police Academy movies), is really in his element here, hilariously shifting roles from servant to sailor to prison guard to jury foreman.
Sutorius, a seriously credentialed stage and TV actor, nails the soft-spoken warmth, wit and logic of More. The best scenes were those in which he gives father-style grief to his daughter's heretic boyfriend, and when he stands fervently before his nemeses, craftily stating his case. In these scenes, the line between actor and character disappears, which is the best you can hope for in theater.
Moments when Sutorius broke into more emotionally wrought speeches felt less authentic, especially when coupled with a few poorly staged moments of forced hysteria from the NCT actresses playing his wife (Joan Mullaney) and daughter (Melanie Ash). It's not that the highly charged moments weren't deserving of emotional outburst; it's just that they didn't quite coalesce.
The mostly off-stage king makes a brief and fumbling appearance, played with affable silliness by Phil Hubbard in a scene that has him intellectually sparring (and losing) with More's daughter Margaret, and -- with obvious pain -- responding to More's "betrayal" in refusing the oath. Steve Rapella plays the villainous Thomas Cromwell (receiving a good-natured curtain-call boo and hiss from the crowd), and Jeffrey Koep -- dean of UNLV's College of Fine Arts -- plays the similarly menacing Cardinal Wolsey.
Costume designer Kelly James-Penot clearly ditched a fair share of classes in favor of Renaissance fairs: The women spin like bells in elaborate dresses, while More's lush robes give way to worn out prison garb. Scene designer Jeff Fiala created a sleek yet deceptively twisty maze of (somewhat underused) staircases, while the subliminal images projected onto a background scrim were a bit more hit-and-miss.
Final verdict? You won't need Cliffs-Notes to enjoy this history lesson, so long as you've got a healthy attention span.